Automate Data Subject Access Requests for £25 per month.


(This includes full access to GDPR Software)
How can our Data Subject Access Request Software (DSAR) help?
Allow data subjects to submit requests directly from your website, via our SAR portal, with minimal effort required from you!
Through a little code snippet that you add to your website we provide you with an iframe containing the full data subject access request forms. When submitted, via your website, the request drops into our management system, and notifies you. You then have access to our comprehensive admin system to track and monitor subject access requests, with email reminders so that you don't miss the 30-day deadline to respond.
Be DSAR compliant in minutes! Sign up now >>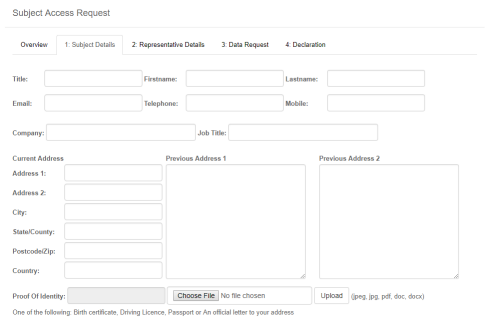 Our SAR portal allows you to take automated online subject access requests, plus we have forms to allow you to log any verbal or written requests, and you can manage them all from the same system.
Your £25+VAT per month also gives you access to our full GDPR Software suite, with a library of all policies and procedures you need for your GDPR plan.
Summary of features for our Subject Access Request Portal:
Pre-built SAR templated forms that you can display on your website.
Neutral, brand free, forms that will fit with any website branding.
Real time notifications when a data subject access request is made.
Create alarms so you do not miss the deadline to respond.
Accept SAR's online, verbally or written and track all in the same system.
See when the request was received and actioned.
See the results of the SAR and when it was completed.
What is a Data Subject Access Request (DSAR)?
The short answer is individuals have a right to access the personal data an organisation holds about them.
This right isn't new as it is currently part of the Data Protection Act, but Article 15 of the GDPR takes it further.
Individuals can make the request online, verbally or in writing and organisations have 30 days to respond.
You cannot charge a fee to deal with the request, unless there are exceptional circumstances.